We focus on exceptional service.
We are a team of experienced construction industry professionals located in Durham, North Carolina.  We are passionate about every project and give you our full attention from start to finish.  We build homes in varying sizes and can build on your land or help you find a lot that matches your lifestyle.  And we'll be with you every step of the way.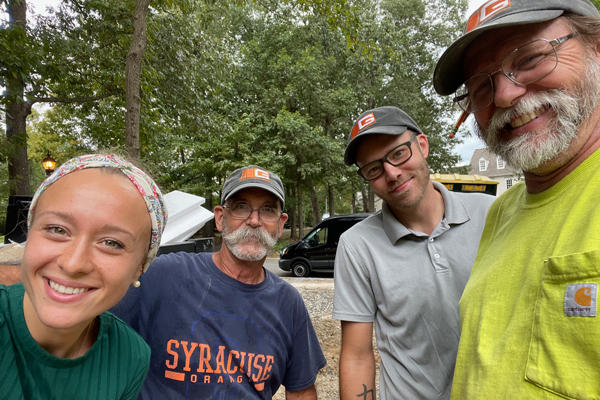 Jeff Grau
Jeff started Grau Building Company in 2005 with a lot of visions and passion but not much else.  No investors.  No Mom and Pop money.  Just hard work, hustle and incredible clients willing to take the leap with him in those early years.
Jeff brings a unique approach and perspective to the construction business. Having spent ten years in corporate settings, managing people and products in small start-ups and Fortune 500 companies, Jeff understands the importance of building businesses with an intense focus on the customer. "Understanding people's needs, and being able to translate those needs into a finished product is at the heart of any company's ultimate success", says Jeff. "My background in product and service-based companies has given me the training to approach my business with the customer as the focus, not the project. The level of satisfaction with any project is directly related to the amount of time you spend listening to your customers at every step of the building process and beyond."
Jeff is a licensed General Contractor, a licensed Real Estate Broker, and a member of the National Association of Home Builders and National Association of Realtors.
Jeff holds an M.B.A. from Georgia State University and a B.S. in Finance from Lehigh University. He lives in Chapel Hill with his wife Amy and their two daughters, with the youngest heading off to college next year.  Gulp!
Kirk Right
Kirk began his career in the construction industry as a laborer in 1972 and continued to evolve his skills over the next 45 years.  In 1996 Kirk moved to NC as a representative for a VA building company he had been working with for more than 5 years.
Kirk acquired his NC General Contractors License in 1998 and has continued residential and commercial building until today. Over the last 15 years, Kirk has worked with McLean Building Company as project manager on some of the most architecturally significant residential and commercial properties in the state.
In his free time, Kirk enjoys designing and building furniture and taking weekend drives in is restored 1970's VW Bus.
At Grau, Kirk manages our job sites and trade partners, making sure our large scale renovation and new construction projects are running smoothly and keeping a close eye on quality throughout the process.
Greg Byrd
Greg joins our team with a great eye for details as he most recently worked for Orange County as a building inspector. Prior to that, Greg holds over 20 years experience as a site superintendent.
Along with site supervision, Greg has performed most phases of the building process, from site preparation through job completion. He always keeps client satisfaction top priority while maintaining the highest level of build quality.
Greg enjoys life in rural Alamance Co. with his wife, dog and a few recent goat additions on his newly established property.
Nick Daniels
Nick graduated from Purdue school of engineering with a degree in construction engineering and management in 2013. Upon Graduation Nick began work in commercial construction as a fire protection subcontractor. The time spent in the commercial industry asw Nick work as engineer, project manager, and finally department manager.
After a short stint running R&D for manufacturing, Nick returned to the construction industry. Working as Project Developer and Project Manager for residential construction projects in Chapel Hill, Durham, and Orange county, Nick built high end new homes and additions.
When Nick is not working, he spends his time on one of his many hobbies or playing with his kid.
Nick joined Grau as a Project manager.  He is excited to work with customers to develop projects, budgets, and to deliver thoughtfully built homes and additions
Dave Annas
David has been a valuable member of elite Triangle-area construction teams since 1982, when he graduated from UNC-Chapel Hill with a degree in chemistry and joined McLean Building Company. A member of David's dart team offered him a job after graduation so he wouldn't leave town and the team, and it's stuck ever since.
He has been well-loved throughout his career for his impeccable finishes, considerate and courteous good-naturedness, and love for bright colors – especially pink. Dave would be happy to tell you more about his newest discovery in the world of music, his lovely wife, kittens and adult daughter, and the best strategy for beating yourself at cricket.
At Grau, Dave is our Ninja.  There's nothing he can't build or fix and he spends his days making the rest of the team look good while delighting our clients.
Danielle Quinn
Danielle has had an interest in houses since a young age, drawing floorplans and researching a career path in architecture as a kid. She graduated from St. Lawrence University with a Bachelor of Arts in Sociology and Fine Arts as a double major, getting a bit side tracked and intrigued with Sociology and choosing a college with a ski team. She continued on to University of Connecticut for a Masters of Sociology degree.
A Masters in Sociology led her to a marketing and advertising position for a building company. And drawn back into the housing world, she naturally found herself with a real estate license and years of sales in both resale and new construction homes. Although she found great success in sales, it was working for a custom builder that she found her true passion for building. She was able to prove herself as a Project Manager getting a shot at renovating homes for a small company in Durham. She obtained her General Contractor license and was looking to launch her own company combining real estate sales with home renovations when she met with Grau Building. Grau Building Company proved to be the best next transition into more custom, larger projects and working with an incredibly experienced team. She has since managed everything from single kitchen renovations to whole house renovations with additions and new home construction projects.
Organized, thoughtful and caring, Danielle is a great advocate for the clients and holds herself to a very high standard. She loves what she does for a living and sees homes as her medium of art. Although it took a bit of time to discover her dream job was boots on the ground & building homes, she loves most showing her three daughters they can do what ever they want and be who ever they want to be when they grow up. Girls can be pretty awesome builders.
Shane Rintlemann
Born and (mostly) raised in North Carolina, Shane began his career in construction when he was barely tall enough to use a broom on his fathers job sites in Estes Park Colorado after his family relocated there in 1995. During the summer months of High School, he would begin to hone his skills of becoming a framer, learning how to read plans, how to organize job sites and learn the overall flow of construction projects. Upon graduating, he continued to frame houses and eventually moved into becoming a lead carpenter and supervisor for one of the biggest interior trim and millwork companies in Colorado. Once moving back to North Carolina in 2010, he sought to further expand his construction abilities and knowledge by holding management roles with well known custom construction companies in the Durham and Chapel Hill area.
When he is not at work he enjoys the great outdoors, golf, basketball and spending time with friends, family and dog.
Jennifer Hutton
As a Buffalo, NY transplant, Jennifer comes to us with years of experience in the design and remodeling industry. An environmental design degree from the University at Buffalo and an interior design degree from Villa Maria college bolster her already substantial knowledge on design, trends, materials, and finishes.
While working as a kitchen and bath designer since 2013, Jennifer has showcased her work in numerous magazines, television shows and in 2020 was presented with one of the NKBA's coveted Thirty under 30 awards. Jennifer has a passion for coordination and style, ensuring each project looks just as good as the space feels, while still maintaining a level of practicality unique to each client.
When Jennifer isn't busy researching the latest in design, you can find her running, fishing, trying new recipes or remodeling her own house with her husband and two Australian shepherds.
Jeff Jones
Jeff's interest in building began at the age of 7 when he witnessed home construction in his own neighborhood. Upon obtaining a college degree and spending time working a monotonous job, he returned to his true calling, building, in 1984. Jeff has held various positions in the industry, beginning as a handyman and cabinet maker, working his way up to a residential and commercial general contractor. He then followed a steady path to project manager and finally, superintendent. When Jeff isn't on a job site, he enjoys quality time maintaining his property with his wife and dog.
Janet Yunker
Janet is an Eastern North Carolina native who moved to the Triangle to attend NCSU and never left. A few months after graduating from NCSU with an Accounting degree, she started working at a national luxury homebuilder. While working there Janet learned all about the homebuilding industry and worked her way up through the accounting department to Division Assistant Controller. After several years with the company, she decided to pause her career and start a family with husband, Casey. She stayed at home with her two daughters, Addison and Carson, for several years. Janet returned to the industry in 2018.
Janet joined the Grau Building team in the fall of 2021 and handles all the general accounting and bookkeeping duties.
Outside of work Janet enjoys spending time with her family on the soccer field, at the beach, or in the backyard around the fire pit.